Are you protecting your HVAC unit for Year-Round Comfort?
Serving your HVAC for 35+ years
Austin is our home and you are our community. Our business is based on your families year-round comfort serving your HVAC in Georgetown, Leander, Cedar Park, Jarrell, Liberty Hill, Salado and more. Our certified and 35+ years experienced technicians offer top-notch products and techniques at competitive prices, delivering an unparalleled customer experience quickly.
See what our customers are saying
What great service! I had a simple issue, drain line was clogged so drip pan was filling. Talked to AusTex over the phone, game me some tips to try and fix it myself. Thanks to Austex for your time and advice. I highly recommend AusTex to anyone needing AC repair. Good honest folks there for sure.
Spoke to Dave. Came in the next day, gave quote and replaced my broken A/C the same day. Very resonableprice and great customer service.
I've used Austex for the last 10 years. They are a excellent company of responsive, honest people. As a result of how they've treated me over this time, they now exclusively have my business, and I recommend them to others at every opportunity.
Austex Air Conditioning/David Smith worked us into their schedule hours after we called in spite of being very busy. David conducted a thorough analysis of our AC system, clearly explained what the problem was, and addressed the problem in a timely fashion. We will use Austex Air Conditioning again and will also strongly recommend this business to others.
Mr. David Smith from Austex Air Conditioning & Heating LLC has repaired 2 AC for me. He is a great technician very knowledgeable, patient, responsible and provide great service to us. He shows up quickly and solve issue quickly. Mr. David Smith came on Sunday to fix all the problems for my 2 AC, very fast. The service charge is extremely reasonable compared to other companies. I appreciate very much Mr. David Smith and his company's service and will become a loyal customer. I recommend this company 100% !!!
We had an issue with our Outside condenser throwing a fuse, David was available to help us within the hour that we called (which was late in the evening). He diagnosed the issue and solved the problem quickly. He was very polite and professional, we highly recommend there service. Thanks again David, we appreciate your help.
Dave and Randy were great! I needed the A/C repaired ASAP. Called two other businesses, didn't even get a call back. Randy came by, had the part on his truck, and had our A/C fixed! Thank you for the speedy, professional fix!
We woke up with a projected high of 112° and an air conditioner blowing hot air. The fan was working but the unit outside wasn't doing anything. After our normal AC repair guys out of Georgetown were booked (as well as 2 others we called) Austex THANK GOD had an opening for this afternoon.

Their tech was able to come an hour earlier than they originally thought and was completely done replacing our capacitor, taping a leak up in the attic, and washing the AC unit in less than 45 minutes. He was super nice and very quick.

Austex will have repeat business from us.
These folks are fantastic. The people that work there are SUPER knowledgeable and responsive. We ended up needing to replace our entire system which is expensive and scary. They gave us a quote, offered different options, and then immediately responded to follow up questions via text. Would absolutely use them again and would recommend to others.
They installed both my HVAC units. I had the capacitor go out in each unit (not their fault) but they responded and replaced it the same day. Since it was under warranty they did not charge for the labor or repair. Always responsive and professional. I recommend this company.
Serving Georgetown, TX and surrounding areas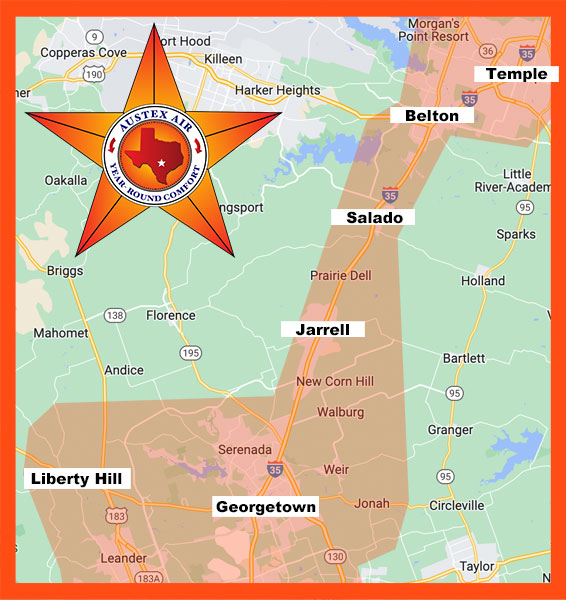 Georgetown

Sun City

Jarrell

Belton

Temple

Round Rock

Pflugerville
We promise day and night AC for the comfort of your family.
Up-Front pricing is to know the cost of repairs before work has begun. Our technician will show up for a minimal trip charge. We will diagnose the problem and present you with a total cost of repairs.
A lot of people struggle with broken HVAC units during the summer and have to wait days before it's fixed and left with a heavy bill, BUT THEY DON'T HAVE TO. Austex Air offers Preventive Maintenance contracts that get ahead of your HVAC before it gets ahead of you. Check out our blogs to learn how to prolong the life of your HVAC unit.
Your HVAC System is an investment to your home When you see your HVAC system as an investment to your home, you won't delay on upgrading it before it breaks down on you.
What Should I Do If My HVAC System Is Making Strange Noises? Your HVAC system is supposed to operate quietly and efficiently, but if you hear strange noises coming from your HVAC system,
Here Are Five Signs That It May Be Time for Service If you see any of these signs here, it may be time to service your HVAC unit. Schedule Service